Maddox Square Durga Puja is a popular Durga Puja pandal in Kolkata, West Bengal, India. It is one of the oldest and most well-known Durga Puja pandals in the city. The Maddox Square Durga Puja was first organized in 1935 by Late Sri Saroj Bagchi at his Ritchie Road residence. The Puja was shifted to its present location, Maddox Square Park, in the following year.
Maddox Square Durga Puja is known for its traditional and artistic celebrations, vibrant pandal and lively atmosphere. The pandal (temporary structure) is designed with intricate and elaborate decorations, often showcasing a unique theme each year. Skilled artisans and craftsmen work tirelessly to create mesmerizing installations and idols of Goddess Durga and her entourage.
The pandal at Maddox Square is usually crafted with innovative materials and techniques, incorporating both traditional and contemporary elements. The organizers pay attention to every detail, including the lighting, sound, and overall ambiance, to create a captivating and immersive experience for the visitors.
The goddess made into the "EKCHALA" structure with golden colour attire, popularly known as "DHAKER SAAJ".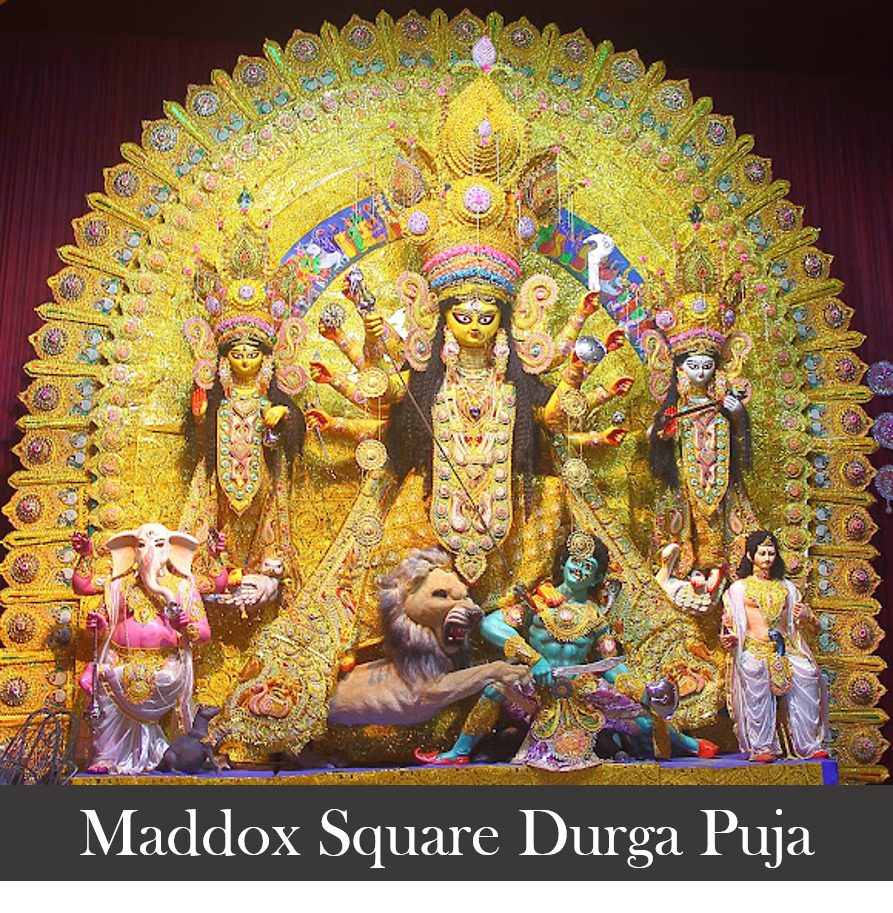 The Durga Puja celebrations at Maddox Square attract a large number of devotees and visitors from different parts of Kolkata and beyond. People throng the pandal to seek blessings from Goddess Durga, admire the artistic displays, and enjoy the cultural performances and festivities.
Along with the puja rituals, Maddox Square Durga Puja also hosts various cultural events, including traditional music and dance performances, theater shows, and exhibitions. The association organizes competitions, cultural programs, and social initiatives to engage the community and promote the cultural heritage of Bengal.
Maddox Square Durga Puja has gained popularity over the years for its unique blend of tradition and innovation, making it an essential part of Kolkata's Durga Puja celebrations. It serves as a platform for artists, artisans, and performers to showcase their talent and contributes to the vibrant cultural landscape of the city during the festival.
| | |
| --- | --- |
| Puja Name | Maddox Square Durga Puja |
| Organizing Club/Committee Name | Ballygunge Durga Puja Samity |
| Address | Maddox Square Park, Ballygunge, Kolkata- 700 026 |
| Nearest Landmark | Maddox Square Park |
| Zone | South Kolkata |
| Puja Organised Since | 1935 (currently 88th year) |
| President | |
| Vice-President | |
| Secretary | |
| Theme Artist | |