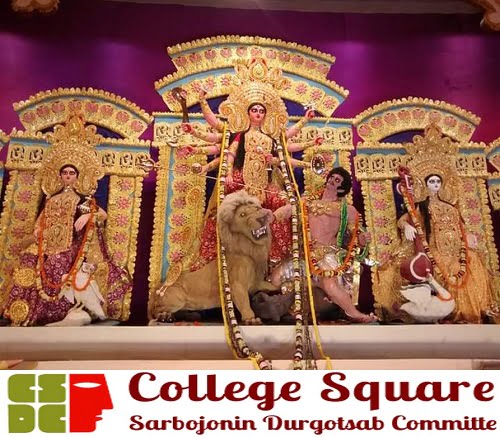 College Square Durga Puja
College Square Durga Puja is one of the most famous pujas in the Central Kolkata area and they are celebrating this puja since 1948. This year they are celebrating the 74th year of their puja.
The main USP of this puja is located beside a Lake. College Square Durga Puja is known for its grand pandal and decorative lighting. When it's illuminated and its reflection seen on the water, the crowd loves it. Live Kumari puja is also held at this puja pandal.
College Square Durga Puja is a must-see Durga Puja Pandal in Kolkata that is held at College Square Park, which is situated on the 1.5-mile-long College Street. This lakeside square, which was built in 1948, has a dreamlike appearance during the Durgotsav when the entire area is decorated and illuminated with lights.
Everyone wants to catch a glimpse of the marvelous reflection of the pandal in the lake, thus College Square Durga Puja always remains crowded.
This puja was started with two objectives in mind – to promote peace and harmony among members of different faiths and to provide an opportunity for children to have fun.
They had celebrated their 73rd anniversary of Durga Puja in 2021, but due to the third wave of Covid-19, the organisers had opted to keep the pandal smaller than in the past years.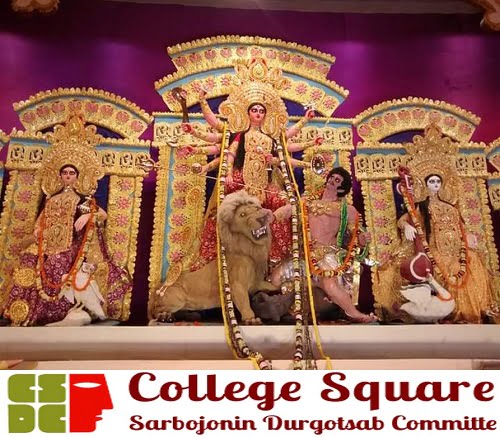 | | |
| --- | --- |
| Puja Name | College Square Durga Puja |
| Organizing Club/Committee Name | College Square Sarbojanin Durgotsab Committee |
| Address | 53, College Street, Kolkata- 700073 |
| Nearest Landmark | College Square Park |
| Zone | Central Kolkata |
| Puja Organised Since | 1948 (currently 74th year) |
| Chairman | Mr. Somendra Nath Mitra |
| President | Mr. Sougata Roy |
| Secretary | Mr. Bikas Majumdar & Bhramar Chatterjee |
| Others | |