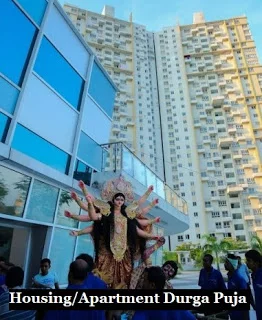 Housing Apartment/Complex Durga Puja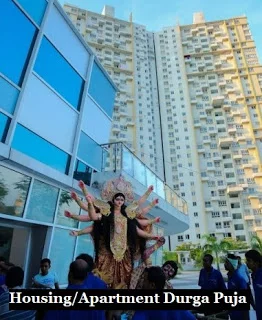 Today in Kolkata people like to reside in Housing Complexes, Apartments or Enclaves. These Housing complexes consist of different blocks consisting of numerous flats. The housing complexes provide many amenities to their residents.
The Complexes in Kolkata organizes Durga Puja festival at large scale. The residents of all streams of religion and caste become united to put their common endeavor to make the Puja a big success. The Puja is organized by collecting funds from the residents of that particular Apartment.
The artists start with making of the Goddess Durga's Pratima in the premises of the complexes, before a month to Puja. The Pandal is made in the Campus of the Complex. The Puja is celebrated in a traditional way.
On the days of Puja different events are held: Such as drawing competition for children, quiz competition, dance competition, Dhunuchi Naach and many other events. In many complexes on the days of "Ashtami", Bhog is served for lunch.
The Complex gets lightened up and the residents come to attend Puja in their fineries. The Puja is celebrated with great pomp and show in all Housing Complexes of Kolkata.